"India's potential as a growing aviation market is immense"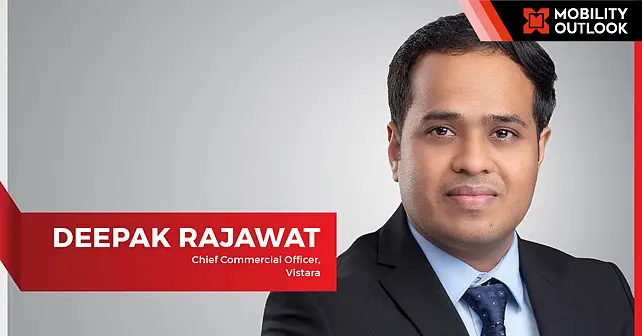 Deepak Rajawat is currently Commercial Director of Vistara and has worked for the airline since its inception. Rajawat manages a broad portfolio of Vistara's strategic and commercial functions. Prior to being named Chief Commercial Officer, he was Divisional Vice President and Head of Corporate Planning at Vistara. He is a seasoned finance professional with over 17 years of experience.
The Indian market is dominated by low-cost carriers; What are the opportunities and challenges for a full-service carrier like Vistara?
India's potential as a growing aviation market is immense, and we believe there are opportunities for everyone in the industry. Vistara fills a void in the market as a modern Full Service Carrier (FSC) offering the best of Indian hospitality and world class standards. With more spacious cabins, less seating density, increased comfort, gourmet cuisine and a host of other amenities, a growing number of travelers continue to prefer full-service carriers.
Specifically, in the context of long-haul international operations, the FSC model has always been successful. With growing customer preference for direct non-stop connectivity, Vistara is very well positioned in the market, especially with more wide body aircraft successively joining our fleet.
Has this been reflected in your market share?
The fact that Vistara captured the second position in the Indian aviation market with a market share of 10.4% in July 2022 is a testament to our growing popularity.
India is a very price sensitive market. While there is a growing preference for premium cabins, especially on metro lines, the story is not the same across the entire network. We are addressing this by deploying our all-economy aircraft, which represent only a fraction of our current fleet, but help us perform well on some domestic routes. The challenge of high costs with rising fuel prices, high taxes and falling value of the rupee against the dollar is putting pressure on airlines' bottom line. To address this issue, we are controlling our non-customer related expenses and constantly trying to lighten our cost structure through innovative approaches.
What are the emerging trends in air travel demand in the Indian market?
Consumer behavior and the very nature of travel have undergone a significant change since the start of the pandemic. Safety and hygiene are now key considerations for customers when choosing their carrier, and so airlines are going the extra mile to strengthen their processes to restore passenger confidence. There has also been rapid adoption of contactless and paperless technologies in travel, and the industry has effectively accelerated its digital transformation process.
Today, people are increasingly opting for self-service online tools for end-to-end transactions, including booking ancillary services, etc. both airlines and customers.
There has also been a noticeable preference for non-stop flights to avoid any transit points, especially on long-haul routes, to minimize the risk of contracting the virus. Most of these trends that have emerged over the past few years, especially during the pandemic, have gained immense importance and will continue to remain influential.
Can you give us some information about your international operations and your main customer segments?
Vistara is committed to expanding its global network and strategically identifying the right opportunities. Currently we operate to/from 10 international destinations – London (Heathrow), Frankfurt, Paris, Singapore, Dubai, Male, Bangkok, Dhaka, Kathmandu and Jeddah. We will operate daily flights between Mumbai and Abu Dhabi from October 1, 2022.
Additionally, we have increased our frequency to select major international destinations, including Singapore, London, Bangkok, Dubai, Kathmandu and Dhaka, to seven times per week. We are also increasing frequency to/from Frankfurt and Paris by more than 100%, effective October 30, 2022, as we prepare to receive our third Boeing 787-9 Dreamliner, which was recently leased. Vistara also offers a wider global network with connections through its interline and codeshare partners.
Vistara offers distinguished service offerings to its travelers on international routes, which include Forest Essentials amenity kits, freshly brewed Starbucks coffee, specially curated bar menu, in-flight Wi-Fi internet connectivity, and more, that modern travelers have widely appreciated it. Our customer base on international routes includes leisure and business travellers, who are not just looking to travel point-to-point, but also want a world-class flight experience, and Vistara is very well positioned. to cater to this segment.
What are the initiatives to offer a contactless experience to customers?
We have taken several steps to ensure customers have a safe and smooth flight experience across all critical touchpoints. Vistara is the first airline to introduce contactless/paperless boarding at select Indian airports two years ago. Other technologies such as kiosk check-in (Scan-N-Fly), electronic boarding passes, electronic baggage tags and automated baggage drop, etc. are all contactless solutions that have helped minimize contact and make travel a safe experience for customers.
On board our A320neo aircraft, we offer contactless in-flight entertainment through Vistara World, allowing customers to enjoy their movies, TV series, news and more. favorites on their personal electronic devices.
Vistara, in many ways, pioneered contactless travel and technology in the Indian aviation industry. This has been instrumental in safely restoring our customers during the pandemic and regaining their confidence to fly again.
Can you tell us about the number of staff, flight times and aircraft types?
Vistara connects 30 domestic destinations and ten international destinations with a fleet of 54 aircraft, including 42 Airbus A320s, five Airbus A321neos, five Boeing 737-800NGs and two Boeing 787-9 Dreamliners. We will launch services between Jaipur and Mumbai from September 30, 2022. Operations are managed and run by nearly 5,000 staff. We are on track to increase our fleet to strengthen our network globally, and we plan to grow the number to nearly 70 aircraft by 2023.
Read also
Rise in power for the Air India group