The aviation market aims for a decisive recovery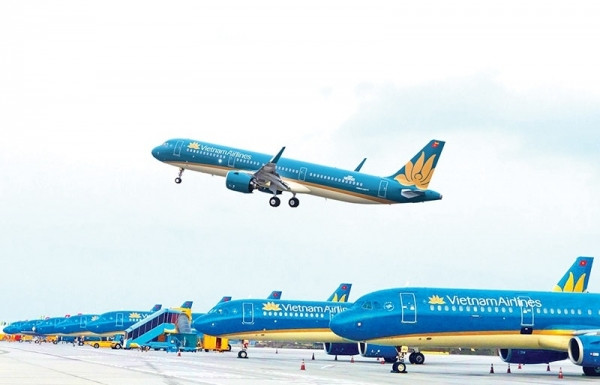 Vietnam Airlines hasn't been the only one to struggle financially over the past two years, Le Toan
According to the first quarter report of the Civil Aviation Authority of Vietnam (CAAV), the sector witnessed a considerable growth of 441% year on year in the number of international tourist arrivals welcomed by Vietnamese air carriers between January and March.
During the period, the number of international tourist arrivals through Vietnamese airports reached 321,000, up 176.2 percent year on year, while overseas cargo transportation reached 292,000 tons, up 176.2 percent year on year. 21.1%.
Flights to Singapore, Thailand, the United States, France, Germany, the United Kingdom and others have been available since February, with frequency gradually increasing alongside the full market opening on March 15.
Currently, three Vietnamese airlines join 23 international air carriers to operate flights to 20 countries and territories. That's eight markets less than the 2019 peak, but there are expected to be additional flights from Singapore, Taiwan and South Korea to Danang from the end of the month.
Last month, a Singaporean airline operated the most flights to Vietnam with 45 return flights each week, but this is still only about a third of the volume seen in 2019.
While the market experienced strong growth in the international tourism segment, the domestic segment still experienced a decline (see box).
In March, the domestic market had six Vietnamese airlines operating 55 to 60 domestic air routes linking Hanoi, Ho Chi Minh City and Danang with 19 local airports.
After several months of generally moving in the right direction, airlines have high hopes of recovery for the rest of the year. Flag carrier Vietnam Airlines saw an improvement, with losses down significantly to VND 1.3 trillion ($56.52 million).
The carrier is now operating 55 routes, 16 more than in 2019, and has resumed scheduled flights to 15 international markets. This month, it plans to operate three additional flights to Singapore and two to India, while considering operating new flights to the Philippines.
Similarly, Vietjet also plans to increase flight frequency on many international air routes between Vietnam and South Korea, Taiwan, Japan, Singapore and Thailand, among others.
Meanwhile, Bamboo Airways operates regular flights to Japan, Taiwan, South Korea, Germany, UK, Australia, etc., and wants to add Singapore and Thailand as soon as possible.
CAAV's Nguyen Phuoc Thang said this was only the first step in reopening, but it is hoped the market will recover soon. "By the end of August, air carriers will focus on rapidly increasing flights to serve tourist activities," he said.
Earlier this year, Bao Viet Securities JSC had forecast that the number of domestic and international tourist arrivals in 2022 would reach 30 million and 5 million respectively, up 89.9 and 4.6 percent year on year.
The International Air Transport Association, in its latest forecast on the industry's post-pandemic recovery, expects air traffic to eventually surpass 2019 levels in 2024.
Source: VIR