Major boost for sustainable aeronautics research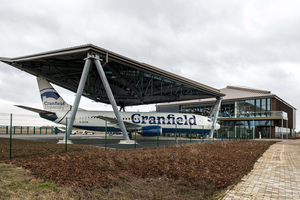 Cranfield University has received £3.1 million to advance its research into sustainable aviation, both in the development of low-carbon aircraft and in the decarbonisation of airport logistics. Funding from Research England will also have an immediate impact on reducing or eliminating greenhouse gas emissions from airborne and airside operations at Cranfield University, amounting to 305 tonnes of CO2e (dioxide equivalent of carbon) per year.
The Net Zero Research Airport project has obtained funding from the UK Research Partnership Investment Fund (UKRPIF) Net Zero Pilot Funding Scheme, an £18.9m funding increase to help universities reduce carbon emissions and make research processes more environmentally sustainable.
It will unlock the additional potential of two existing Cranfield UKRPIF projects – the Aerospace Integration Research Center (AIRC) and the Digital Aviation Research and Technology Center (DARTeC) – providing new facilities and equipment to support research focused on sustainable aviation.
Building the path to sustainable aviation
Cranfield University, which is committed to achieving its own goal of net zero carbon emissions by 2030, has long focused on aeronautics and environment.
"This funding is a welcome boost for our innovation and research at Cranfield University," said Professor Iain Gray, Director of Aerospace at Cranfield University. "This will have an immediate impact on our own operations and emissions. And in the longer term, it will help us make a significant contribution to the government's ambition of net zero aviation by 2050 and the global net zero goals, as new technologies and developments are adopted by the aviation industry.
"There is an urgent need for a clear path to a future world of sustainable aviation, and Cranfield University can help build that."
Immediate impact on reducing emissions
The Net Zero Research Airport project will invest in new equipment for the University, which will have an immediate impact on reducing emissions. This includes:
a hydrogen electrolyser, powered by solar panels, to power research on fuel cell aircraft, ground operations vehicles, and research on hydrogen internal combustion engines and combustion chambers for gas turbines gas

a mobile hydrogen compression and vehicle refueling system, supporting research projects at the Cranfield campus

two electric vehicle charging stations to charge airport ground operations vehicles

electric and fuel cell ground operations vehicles to support the National Flight Laboratory and aircraft trials, including an aircraft tug, ground power unit and rapid response fire truck – moving the University away from the use of diesel-powered vehicles
a sustainable aviation fuel tanker to maximize the use of this fuel at Cranfield Airport

air quality and metrological instrumentation to extend the living lab research system, monitoring aviation and transport emissions information for the AIRC and DARTeC online, and integrating it with the UK Collaboratorium for Infrastructure and Cities Research.
Additional infrastructure essential to move forward
Cranfield University already plays an important role in accelerating research into sustainable aviation and translating it into regulated aviation. As the only university in Europe with its own airport, alongside state-of-the-art aerospace research facilities and world-renowned experts, Cranfield harnesses digital and physical technologies to achieve rapid innovation.
Professor Graham Braithwaite, Director of Transport Systems, leads the DARTeC project and said: "Our research has grown at a rapid pace and it is now crucial that we have this additional infrastructure to keep moving forward.
"The entire aviation ecosystem – from ground operations to aircraft, from airports to range – is about to experience tremendous and positive disruption; and we have a leading role, working alongside industry partners and new start-ups, to realize the potential of net zero.
Next-generation sensors will create a 'digital twin' airport
Part of the funding will go towards the development of next-generation emissions detection technologies as part of the Living Lab research project at Cranfield.
The expanded sensor network will develop and assess ground operations and aircraft handling to minimize harmful emissions as well as greenhouse gas emissions, using capture, sequestration, utilization and storage technologies carbon already under active development.
The airfield's live sensor data will also feed into a "digital twin" of the airport. It is a virtual model designed to accurately reflect the physical airport and will allow researchers to provide new virtual emissions modeling for different aircraft operations and fuel types.
Support the research sector to reduce environmental impacts
Research England Executive Chairman David Sweeney said: "The UK Research Partnership Investment Fund has a strong track record of funding state-of-the-art facilities that support cutting-edge research and strengthen partnerships between universities and other organisations. active in research.
"By piloting these innovative approaches to tackling net zero in infrastructure, we hope this program will help us learn more about what works so that we and the higher education sector can take it into account in future activities. and build on the already successful UKRPIF model."
Professor Duncan Wingham, Executive Chairman of NERC and Sponsor for Environmental Sustainability and Net Zero at UKRI, said: "Our Environmental Sustainability Strategy commits UKRI to supporting the research sector to reduce its negative environmental impacts. .
"This funding will help these leading national centers and facilities develop innovative solutions to reduce energy demand and increase the use of renewable energy in some unique research environments.
"UKRI is proud of its role in reducing carbon emissions through the delivery of cutting-edge research results in support of institutional and national net-zero targets."
Stimulate research on aviation and the environment
Cranfield became a National Center for Atmospheric Science (NCAS) Fellow in 2020 and hosted his FAAM Airborne Laboratory since 2007.
In September 2020, Cranfield supported ZeroAvia achieves the world's first flight powered by a hydrogen fuel cell of a commercial aircraft. Cranfield Aerospace Solutions and the university are developing a retrofittable green propulsion system using hydrogen fuel cell technology.
ENDS
---
Warning: AAAS and EurekAlert! are not responsible for the accuracy of press releases posted on EurekAlert! by contributing institutions or for the use of any information through the EurekAlert system.